Cosmetic Surgery
I AM INTERESTED IN A BREAST REDUCTION BUT MY RESEARCH HAS SHOWN ME A LOT OF EXAMPLES WITH VERY NOTICEABLE SCARS. DO ALL BREAST REDUCTIONS END UP WITH BAD SCARS? Molly H. Santa Clara

You are correct in thinking that the traditional breast reduction procedures do leave rather noticeable scars. These scars run around the areolus, vertically down to the fold and horizontally along the fold (i.e. the inverted "T" incision"). But newer techniques today allow a surgeon to obtain similar results with minimal incisions (as short as a single incision, one quarter of an inch long!). Incision patterns chosen by the surgeon will be dictated by the surgeon's experience, the patient's anatomy and each patient's expectations. It is possible today to significantly reduce many breasts with minimal incisions, frequently utilizing liposuction alone. The decision regarding which technique will be employed can only be made after a thorough consultation and a discussion regarding patient expectations. The liposuction procedure can reduce breast volume but will not result in a significant skin tightening or elevation of the nipple. If a significant reduction also requires elevation of the nipple, the newer techniques which result in incisions either just around the areolus or perhaps with a vertical component may suffice. And occasionally, with very large breasts and a desire for an elevated nipple, the surgeon may still recommend the inverted "T" incision. But the important part is to find a surgeon who is well versed in all of these techniques, and to choose the procedure which will give you the result you expect with the least amount of scarring possible.
Please feel free to call Dr. Bunkis at Orange County Plastic Surgery (949-888-9700) to discuss your options.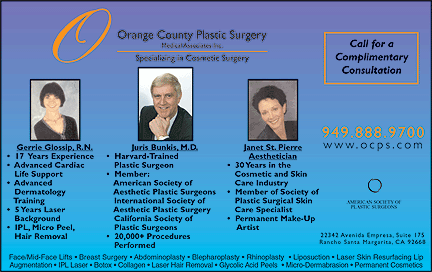 I WOULD LIKE TO HAVE MY NECK TIGHTENED AND JOWLS REDUCED BUT AM ONLY 42 YEARS OLD AND DO NOT FEEL THAT I AM READY FOR A REGULAR FACE LIFT YET. WHAT ARE MY OTHER OPTIONS? Judith P. San Clemente

Aesthetic surgery is optional and your first option would obviously be to wait before you have any surgery. And whether you wait to have surgery or decide to do a lesser procedure now, please remember to use sun blocks daily and to see an aesthetician to set up a good skin care program for yourself – we would be happy to help you set up an appointment with our skin care department.

You are correct in feeling that younger patients with early signs of aging usually are not candidates for a full face lift. Such patients can frequently be helped quite considerably with one of the newer minimal incision techniques including neck liposculpting, tightening the neck muscles through small incisions just beneath the chin and perhaps the ear, endoscopic forehead lifts, or some of the modern midface lifts that are performed through hidden incision inside the mouth and behind the hairline. Perhaps a series of one of the nonablative laser treatments that remove surface blemishes and tighten the skin slightly would be your best bet. But to tell you the truth, I could not begin to tell you what your best option would be without evaluating you in person.
Please call us at (949) 888-9700 and ask the staff to arrange a complimentary consultation for you and I will be happy to give you my best opinion as to your options.