Q & A with Dr. Burr von Maur:
Cosmetic and Reconstructive Plastic Surgery
Q: Is it possible to have Liposuction without having general anesthesia, and is this safe to do?
A: Many patients qualify for Liposuction using local anesthesia only. Probably 30 - 50% of our patients who are in excellent health and have smaller localized areas of fat accumulation usually qualify. In our office surgery suite, we perform Lipo-Sculpture under local anesthesia, which is practically painless. With our power assisted Lipo-Sculpture we now achieve more precise sculpting capabilities. In addition, we utilize External Ultrasound which facilitates fat removal. The areas that we commonly treat include the chin & neck area, upper outer thighs (saddlebags), upper inner thighs, knees, abdomen, waist and love handles.
Safety is our primary concern. We evaluate our patients pre-operatively, taking a complete medical history, discuss any health concerns, and order all appropriate testing and lab work. You are fully monitored during the procedure. Our patients are very satisfied and happy with their results.
Q: "I am thinking about having breast augmentation surgery and I have heard many opinions about the different types of implants and whether the implants should be placed on top above the muscle or beneath the muscle. Could you help me with some of this confusion?"
A: Your concerns are valid and most patients who come to us have the same concern. Breast augmentation is a very common procedure and different types of implants are available. The implants can be either smooth or textured, saline or silicone. There are also a variety of different "profiles" and sizes to choose from to fit every person's unique physical characteristics.
As far as the position of the implant, most physicians currently believe that if the implant is placed behind the pectoralis major muscle, the appearance will be more natural and that the implant has better coverage and thus will not be as visible as it would be if it were placed on top of the muscle. In patients who have a modest amount of "drooping" of the breasts, the implant may be satisfactorily placed on top of the muscle if there is enough breast tissue and other subcutaneous fat to cover the border of the implant so it is less obvious. Of course, with severe drooping, breast lift (mastopexy) is necessary.
Q: I have been bothered by my nose my whole life because I feel that the tip is too wide and there is a large hump. Can you explain what is involved in a "nose job" and whether it would be helpful to my situation?
A: The medical term for a "nose job" is a rhinoplasty. It is designed to improve the shape of your nose and create refinement, principally to reduce the bump, narrow the nose and the tip, and correct some of the deformities that are of concern to you. Frequently, there are also breathing problems involved and these can be corrected at the same time. Usually you will require a nasal splint (a cast) to hold the bones in place during the early healing phase for about a week, and there will be some packs inside the nose for a few days. Also, you should expect some bruising around the eyes, which will usually subside within a week or two. Most of the swelling is gone within three weeks, but it takes a whole year for all the swelling to completely disappear. Most patients receive a significant improvement in the appearance of their nose, and as a side benefit, you will notice that your overall countenance, and especially your eyes, will look more rested and rejuvenated. The nose is the aesthetic center of the face and small alterations in the shape of the nose can have dramatic effect on the overall appearance.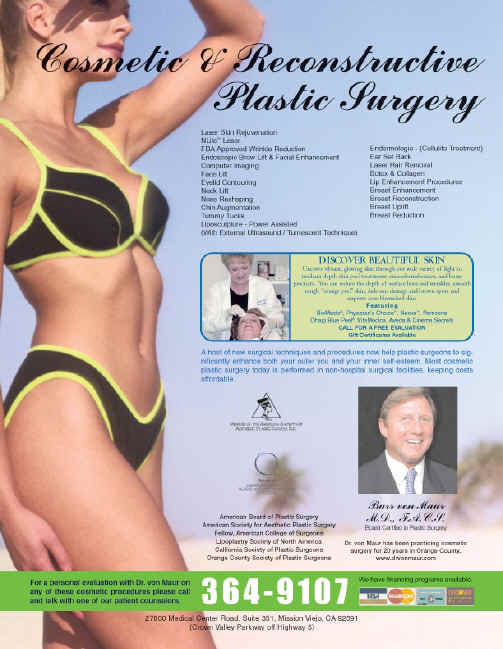 Q. I have had many problems with brown spots on my face. Since having two children and exposure to the sun they seem to have gotten worse. I have tried many fade creams to no avail. Do you have any advice on how to fade them or even to make them disappear! I have been told that I would need to have a face peel done but am not sure about that either. Any advice you can give would be wonderful.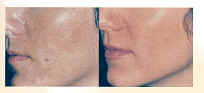 A. The brown spots you are referring to are called hyperpigmentation. Being pregnant or taking birth control pills increases your susceptibility to develop these spots, a condition called melasma or chloasma. Superficial chemical peels are a good idea, if they are in the hands of a skilled skin care professional. The best course of action for you would be to contact our aestheticians Linda King &, Vickie Olson who perform skin peel treatments. We offer many product lines that address these pigment issues, as well as comprehensive lines of vitamin C products. A combination of products and peels help to even the complexion. This combination treatment is also very effective on the chest, arms and hands to reverse sun damage. It is always best to have someone analyze your skin in order to make the appropriate product and treatment recommendations for you.

Liposculpture
Most patients that are interested in body contouring inquire about liposuction and often wonder if it can be done under local anesthesia or if it needs to be performed under general anesthesia. Under general anesthesia there is a great variability in the volume and number of areas that can be done at one time. Indeed there are many patients in whom liposuction can be performed under local anesthesia as an outpatient with excellent patient satisfaction and very little discomfort. These are the patients who have smaller areas that they wish sculpted. This is done as an office procedure with light sedation using the tumescent liposuction technique. We combine this with external ultrasound to improve the smoothness of the skin and reduce bruising. We also use very small cannulas with power assist to improve precision and obtain better results. Patients are usually happier with an office procedure under local because that means they do not have to have general anesthesia in the surgery center.