A New Trend For Seniors
Steven Ross, M.S.G., M.A., N.H.A./Gerontologist
Executive Director
Freedom Village Continuing Care Retirement Community and Health Care Center.
With the housing market booming and families moving to new areas, bigger homes and sometimes downsizing, we often forget about the senior citizens. Although many remain in their present homes, there are several alternatives for senior housing.

For the youngest seniors, there are gated communities for those age 55 and over that offer a variety of selection of home styles.

However, with today's medical technology and the quality of life, there are 3.8 million seniors over the age of 85. Demographers project that after the first baby boomers hit retirement in 2011, the numbers will explode with people 65 and older numbering 1 in 5 by the middle of the next century.

Retirement communities are becoming increasing popular among the 75 plus
generation where they can continue to keep their freedom and independence. This is called Independent Living. To walk into some retirement communities, you would think you were in a prestigious country club. Seniors enjoy spacious apartments with kitchens, and some offering views of the mountains or courtyards. The communities are complete with a library, beauty shop, social rooms, and elegant dining. Services range from having your meals prepared, maid service, transportation and security. The planned daily activities keep seniors active and healthy with many offering fitness centers and exercise classes.

For seniors who are not able to manage independently, there is Assisted Living where assistance with personal care needs is available. Skilled Nursing facilities provide rehabilitation and 24-hour medical supervision for seniors.

Choosing the right type of living arrangement is important and there are many choices. Couples are often faced with the dilemma of each needing a different type of lifestyle and having to live in two different communities.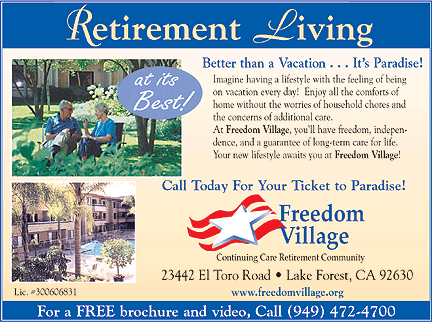 In Saddleback Valley, there is one community that offers all of these levels within one community and that is Freedom Village Continuing Care Retirement Community.

"Independent Living is ideal for seniors over 70 who want to enhance their lifestyle", said Linda Methe, Regional Marketing Director at Freedom Village. "A Continuing Care Community, where all levels are available, allows seniors to move within the community as their needs change over the years. At Freedom Village, they also receive a guarantee of long-term care for life." She also adds, "we have had several physicians in the area choose Freedom Village for their parents and that is probably the best compliment we can receive".

Seniors are definitely living longer and builders and realtors have a whole new market available to them.