Acupuncture
Adult Day Care
Allergy & Asthma
Alternative Medicine
Assisted Living
Audiology
Chiropractic
Clinical Research
Community Health
Cosmetic Surgery
Dental Care
Dermatology
Endodontist
Family Practice
Fertility
Gastroenterology
Health Insurance
Home Care
Hospice
Hospitals
Hypnotherapy
Imaging
Internal Medicine
Laboratory
Laser & Botox
Medical Supplies
Neurology
Obstetrics & Gynecology
Ophthalmology
Optometry
Orthodontics
Orthopedic Surgery
Pain management
Parenthood
Pediatric Dentistry
Pediatrics
Pharmacy
Physical Medicine
Physical Therapy
Plastic Surgery
Podiatry
Psychology
Rehabilitation
Retirement Community
Skilled Nursing
Skin Care
Speech Pathology
Sports Medicine
Urgent Care
Urinary Continence
Urogynecology
Weight Loss
Endodontist (root canal specialist)
These are exciting times in Endodontics!
I am proud to announce the opening of my new specialty office. The foundation of the practice is built on dedication to service. The concepts, values, and satisfaction we, as dentists, pursue are incorporated into our mission statement.

In our practice, we employ state of the art technology; including digital radiography, surgical microscopes, and the latest sterilization equipment. These new advancements provide many benefits including minimizing radiation exposure to the patient and staff, enhancing visualization and identification of the intricate conditions of the root canal system, thus, assuring an accurate diagnosis, appropriate treatment, and proper care.
My skilled staff and I have formed a team that treat people in a comfortable, caring and professional manner. Natural teeth serve as the best dental implants and we attempt to preserve their health and function.

We welcome any and all dental problems including diagnosis, consultations, conventional, re-treatments and surgical root canal therapy, trauma, and emergency visits to relieve tooth pain. As a patient, signs that you should look for include tooth pain, prolonged sensitivity to hot and cold, tooth discoloration, swelling and tenderness in the nearby gums. In some cases, there might not be any symptoms with a true existing problem. Therefore, if you are experiencing any of the above situations, please ask your general dentist to refer you to an endodontist (root canal specialist) for further evaluation or treatment.
Please feel free to call us to arrange an appointment for any questions or assistance, or visit us at www.scendo.com

Dr. Oskoui has his practice in Rancho Santa Margarita at South County Endodontics.
(949)766-8800 or (949)ROOT-800.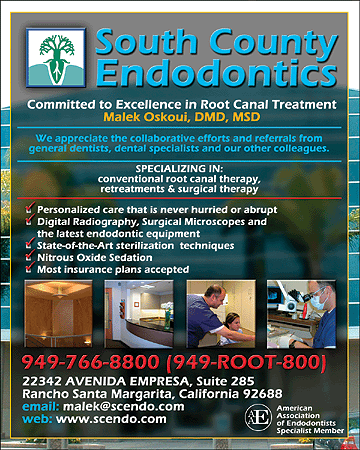 South County Endodontics
22342 Avenida Empresa,
Suite 285
RSM, CA 92688
949.766.8800

---